ASB Awareness Week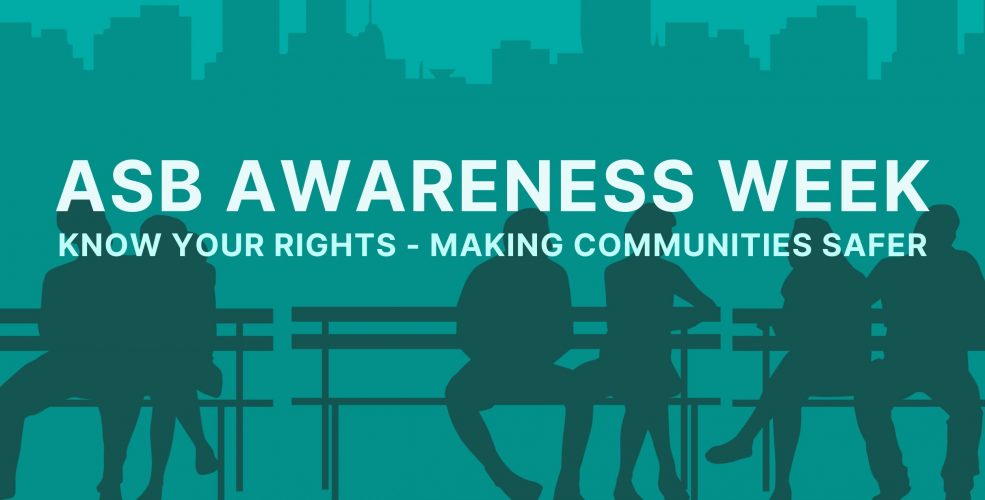 3 – 9 July 2023 is ASB (Anti-social Behaviour) Awareness Week
This year's theme for ASB Awareness Week is 'Know Your Rights'. Resolve (a Centre of Excellence focused upon community safety and anti-social behaviour) have lots of great resources online including a guide to recognising, recording and reporting anti-social behaviour.
With a particular focus on the ASB Case Review. The Case Review, formerly known as the community trigger, gives victims of persistent anti-social behaviour the right to request a multi-agency case review. You can find out more here.
What is Anti-social Behaviour (ASB)?
ASB is defined as 'behaviour by a person which causes, or is likely to cause, harassment, alarm or distress to persons not of the same household as the person'. As Staffordshire Police report, some examples include:
Rowdy or nuisance neighbours
Animal problems
Trespassing
Street drinking
Nuisance noise
What can you do?
If you're experiencing problems with your neighbour, consider having a calm conversation with them about how their behaviour is affecting you. They may not know that their behaviour is bothering you and bringing it to their attention may be enough to resolve the matter.
Since anti-social behaviour tends to involve repeated incidents, it can be helpful to maintain a diary of ongoing issues. Include as much detail as possible, such as the individuals involved, date and time, description of the events, duration of the problem, impact on you, and any potential witnesses. If safe to do so and without aggravating the situation, you can also take photos to support your notes.
In case you are unable to talk to the person causing the problem or if the issue persists despite your attempts, you can report the behaviour to:
What will we do?
We take all complaints of ASB seriously and we will investigate each complaint that is received. It would be helpful if you give us the address of the person you are complaining about, as well as details of the problem you are experiencing.
We will investigate complaints of ASB based on the category of the case – serious cases need more urgent attention than other cases.
Where we have evidence of ASB caused by EPIC tenants, their household members or their visitors, we can take different types of action from giving support and advice to applying for a court order to evict the perpetrator.
Please click here for a full summary of our approach to dealing with ASB.
More news articles