Be Careful Who You Answer Your Door To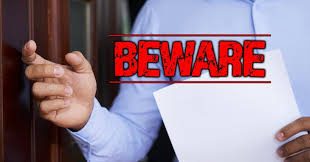 URGENT: Unsolicited canvassers operating in the Bentilee area
We have recently received reports that canvassers have been targeting the Bentilee area, also claiming they are working for EPIC !
Please take extra care when answering the door and make sure you always ask for ID.
EPIC staff and our contractors will always carry ID – please do not hesitate to ask for this when we visit you.
Some tips from Age UK on protecting yourself from doorstep scams
Only let someone in if you're expecting them or they're a trusted friend, family member or professional. Don't feel embarrassed about turning someone away.
Don't feel pressured. Don't agree to sign a contract or hand over money at the door. Think about it and talk to someone you trust.
Check their credentials. You should always check someone's credentials – a genuine person won't mind. You can phone the company they represent or check online, but never used contact details they give you.
Don't share your PIN. Never disclose your PIN number or let anyone persuade you to hand over your bank card or withdraw cash.
Call the Police. Call the police non-emergency number 101 if you're not in immediate danger but want to report an incident. But call 999 if you feel threatened or in danger.
For more information go to www.ageuk.org.uk/information-advice/money-legal/scams-fraud/doorstep-scams/
More news articles